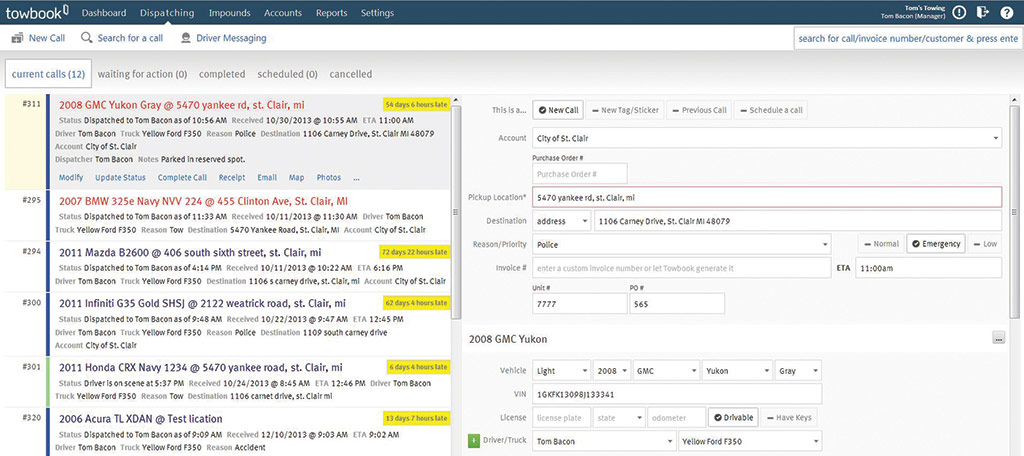 Towbook is 100% web-based, so you can use Towbook from any device with Internet service, including PCs, tablets and smart phones. Plus, there's no software to install, so you're always running the latest version. Towbook's mobile apps for iPhone and Android make it easy to update call information, take pictures, decode VINs, send invoices to customers and much more.
Towbook can synch with your QuickBooks account, too, so you don't have to double enter invoices and you can avoid costly billing mistakes. Towbook runs great on Windows, Mac, iOS and Android.
Built for Towing
Dispatching. Towbook's real-time dispatching makes all call information instantly visible to all your employees – nobody has to refresh screens or wait for updates.
Motor Club Calls.  Motor club calls go directly into Towbook, automatically creating a new dispatch and alerting everyone on your team that a motor club call came in.
Impounds & Private Property. It's easy to manage impounds with Towbook, including calculating daily storage fees, tracking police holds and releasing vehicles. Plus, Towbook will automatically notify private properties when you tow a vehicle, including sending photos.
Reporting. Use Towbook to report on business performance, track daily call volume, manage accounts receivable, calculate commissions and much more.
License Plate to VIN. Towbook's new license plate to VIN feature allows you to enter a plate # and the system will return the full VIN plus the make, model and year of the vehicle – saving time and reducing the chance for mistakes.
Why Owners use Towbook.
With Towbook, owners and managers have access to real-time data about their business. Call activity, income, driver status and much more are always just a few clicks away.
Eliminating hand-written tow tickets and managing transactions within the system reduces operating costs and prevents lost income by eliminating inaccurate or misplaced tickets.
Towbook's simple reporting gives you access to dispatching, accounting, AR aging, driver performance, and much more in standard report or graphic views for easy understanding and comparison.
For owners and managers, having access to your company's information 24/7/365 is a powerful advantage.
Drivers love Towbook.
Drivers can receive detailed call information on their smartphone so they can view and update call data when they're on the move. They can also see pending calls assigned to them and accept calls once they're cleared from their current run, reducing downtime between calls.
The Towbook mobile app "plate to VIN" feature allows drivers to simply key in a plate number to obtain the full VIN and other vehicle data, which is automatically added to the call – saving time and preventing errors.
Drivers can take photos of vehicles and add them to a call and they can capture customer signatures and email invoices, all right from their iPhone or Android.
Saving time for drivers and reducing the chance for errors is critical for any towing operation.
Towbook helps Dispatchers.
With Towbook, calls from Motor Clubs go directly into the system, automatically creating a new dispatch. This saves time for dispatchers and eliminates the chance for mistakes.
Towbook automatically calculates pricing for each call, including specific account pricing, mileage charges and daily storage, so you can quickly and accurately release vehicles.
Dispatchers can quickly locate a call record in Towbook, update the call and email call records to customers, insurance companies and police.
Towbook will help you organize your operation and give your dispatchers a set of tools that will help grow your business.
Why Towbook?
With no contracts and no up-front setup or training fees, we make it easy to get rolling with Towbook. Plus, Towbook is priced right with low monthly fees starting at just $49. Plus, you can add as many users as you want because we have no per-user fees.
Our simple setup process is so easy you'll be entering calls the day you sign up. Plus we provide free training and support.
Your business is all about customer service, and so is ours. You can count on us to be there when you need us. We provide free support 24/7/365.
Towbook Management Software
www.towbook.com
(888) 884-9598