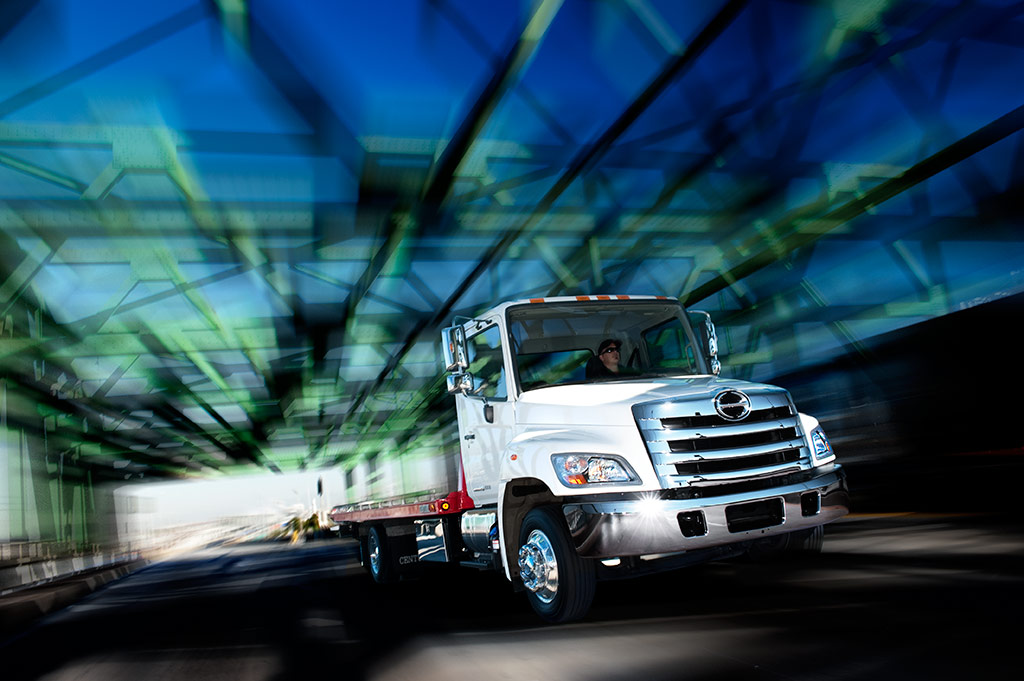 Turn the steering wheel and see for yourself. The unique design of the Hino 258 steering components gives it a wheel cut of 55°, one of the most accommodating in the transportation industry. And the Meritor Easy Steer front axle and TRW steering gear not only reduce steering effort, but also contribute to long component life.
The 258's standard dual driver side grab handles, large non-skid steps and the widest door openings in the industry (88° of swing) make it easy to get in and out of the truck. It also makes it safer, especially when the driver is entering and exiting in hazardous weather.
The 2014MY Hino Trucks lineup welcomed a new addition to the family:  the 195 model.  This 19,500 GVW cab-over engine chassis configuration is available as a diesel-only (195) and is also available with a diesel-electric hybrid (195h) option. Both models are also available in an extended double-cab (195-DC, 195h-DC) configuration.
The 195 boasts excellent sight lines and second-to-none maneuverability that one would expect from a COE offering, but there is more to the story. What really drives the 195's success is the Hino J05 engine that powers it. The J05 engine features 210hp with 440 lb.-ft. of torque with a 5L displacement. The 195 / 195-DC model is also eligible to receive HinoCare benefits free of charge to the customer, which is Hino's preventive care program for the truck's first 2 years or 60,000 miles.
Visit www.hino.com for more information and to locate your nearest Hino dealer.