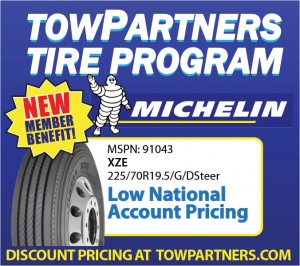 towPartners has announced that it has recently partnered with Michelin to be the primary supplier for the towPartners tire program. This program brings a simple process to towPartners members, allowing them to setup an account directly with Michelin and to receive the towPartners pricing on their purchases. This new member pricing is very aggressive and is expected to add significant value to the towPartners membership, as well as to provide new sales for Michelin through the partnership.
The new tire program being offered to towPartners members is geared toward member companies with fleets who purchase tires from local dealers. Using the program, towPartners members receive tremendous discounts on the tires they purchase and still have access to the local dealer network for delivery of tires, as well as mounting, balancing and other tire-related services. Participation is limited to current towPartners members whose fleets represent hundreds of thousands of tires in use every day.
"towPartners continues to work hard to deliver quality benefits to our members," stated Jeffrey Godwin, COO of FTI Groups, who operates towPartners. "We are proud to offer a program associated with such a dynamic leader in the tire industry. The towPartners Michelin program will offer towPartners members the full line of Michelin tire products at a great savings. We are thrilled to offer this kind of quality benefit that will represent real savings to our members as we work 'for the industry."
towPartners members now have the opportunity to view discounted Michelin tire pricing online at www.towPartners.com and, after a very simple Michelin program registration, will be able to order tires and pick them up at a Michelin dealer near their location. There are approximately 1,700 points of sale across the United States, making the towPartners tire program accessible nationwide.
To learn more about towPartners, visit www.towpartners.com.