No need to tie up large sums of cash to purchase video security systems for your vehicles.
Eye3Data has partnered with MARLIN LEASING to offer you an opportunity to lease your new Video Surveillance System!
With Leasing, you can now afford the most advanced security system for your vehicles and business!!
Here are just some of the advantages of Leasing a Video Surveillance System:
100% Financing – Our leases finance 100% of the cost of the equipment. You can include "soft" costs in your lease, such as shipping, software, training, installation, and maintenance.
Cash Flow – Making monthly payments are much easier than paying thousands of dollars out of pocket.
Tax Benefits – Unlike loan payments, lease payments may be fully tax-deductible as an operational expense. Consult your tax advisor.​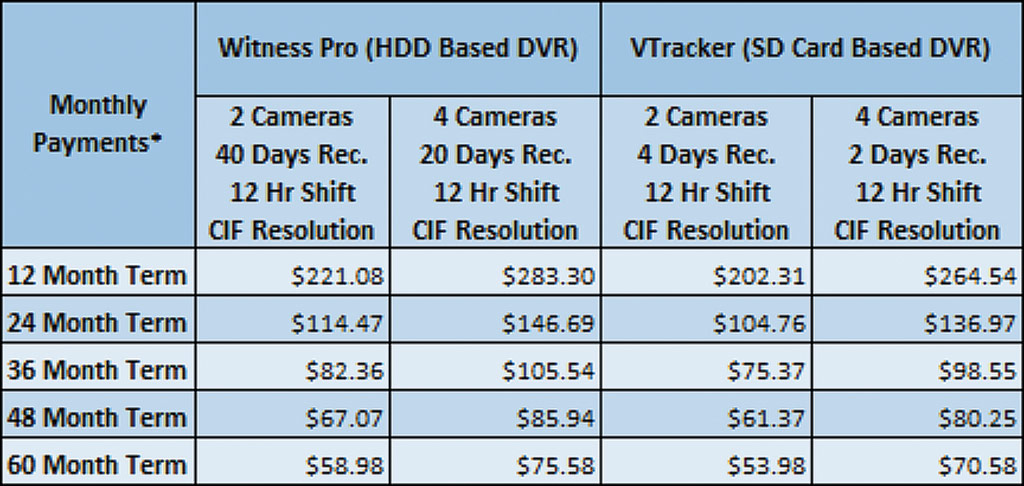 *Above chart is a sample; prices may vary.  Please call at Eye3Data 888-777-9059 for more information on our Leasing Program.
Visit us at the American Towman Showplace in Las Vegas, May 16-17, 2014. 
888-777-9059
www.eye3data.com