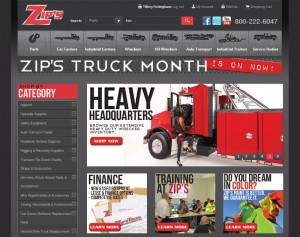 Zip's is thrilled to announce that www.zips.com will soon be unveiled to the towing industry. Aside from an updated look, the new website will offer a powerful way for our towing customers to sort through hundreds of pieces of towing equipment, and the industry's largest selection of parts and accessories. The site is set to be complete mid-summer and will feature:
Powerful search functionality within the Parts Store that will help users find specific
replacement parts and unique accessories to outfit their wreckers and towing equipment.
The "My Account" section, which will allow you to manage your parts account, locate both open
and closed invoices, view your order history, and track your online purchases.
Wish List feature, which gives users the ability to save their favorite items, and come back to
them at a later date for purchase.
Zip's wants to provide the towing industry with a comprehensive shopping experience, bringing all of the necessary elements into a one-stop-shop. The new website will give users a better understanding of the wide range of products and services that are offered by Zip's. Customers can not only shop for parts and major equipment, including carriers, wreckers, trailers, and service bodies, but they can also:
Apply for financing, complete a credit application online, and receive a response within 48 hours
Schedule Service for their equipment at either the Iowa or Michigan location.
Read industry news, watch new product videos, and purchase the newest products on the market.
Sift through a library of towing equipment brochures and specification literature.
Browse training schedules, book your next session at Zip's, and check out photo galleries from previous classes.
Watch your wrecker being built at Zip's by viewing live webcams within the shop.
Please stay on the lookout for the new website! Visit www.zips.com to stay in the loop, and don't forget to friend us on Facebook.