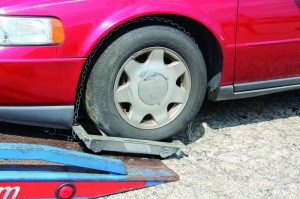 Calls for quickly moving vehicles with broken ball joints continue to grow. While many use skates or Go-Jacks, many towers find that their ability to safely load and secure a vehicle these vehicles, especially aluminum beds, on their roll back wreckers that they need a studier device.
Steck's 4th Wheel Loader is a tough 24" x 14" hardened aluminum fabricated platform with two 4" x 10" Polypropylene roller wheels, six 5/8" holes for mini-J hooks for loading assistance and 1" axles which provides a safe platform to easily hold and secure up to 5 tons while loading a vehicle. The 4th Wheel Loader also includes two shims that allow the driver to raise the vehicle with busted ball joints, lost wheels and severely bent axles and place it at a desired height for secure loading on the roll back. The Loader is 4" high (without shim blocks) with a built in 6" X 1 ¼" handle which will allow you to store the 25 lb. Loader behind your seat or tool box. Quicker loading and unloading while preventing further damage to vehicles by allowing the driver to center, pull and properly secure the vehicle on the roll back bed as well as preventing bed damage to the roll back.
We have also found that the shops where the towers drop the damaged vehicle has a similar problem because Go-Jacks do not work well outdoors, which result in many damaged floor jacks trying to move the vehicle into the shop. The 4th Wheel Loader with its two Polypropylene wheels works well in gravel and dirt to move the vehicle directly into the repair bays and frame racks.
Steck Manufacturing Co.
1115 S Broadway
Dayton, Ohio 45417
937-222-0062