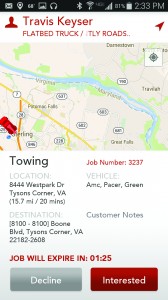 Traditional roadside business can be a pain…and a drain on your towing or roadside assistance business. But now, Urgent.ly is taking the industry by storm, combining great rates, fast digital payments and easy-to-use apps that make it easy for roadside businesses to be profitable.
As consumers live more and more through their mobile devices, the industry is ripe for pay-as-you go, instant access, on-demand roadside assistance solution. Consumers are no longer willing to pay membership or club fees based on antiquated insurance models. When they need help, they want to instantly connect with service providers; a virtual guarantee that "help is on the way;" and a cashless, flat-rate and straightforward pricing and payment system.
Urgent.ly delivers all that and more, using technology that is free to the towing or roadside provider and amazingly cost-effective for the customer. Consumers using Urgent.ly's iOS mobile or web apps take advantage of the company's proprietary real-time dispatch platform to connect to nearby, available help. They have access to more providers in their immediate area, with visibility into their provider's movements via GPS tracking, instead of waiting blindly for a service provider contracted by an insurance company that may have two to three jobs to complete first.
Urgent.ly allows the consumer to see the provider on a map moving in their direction, and allows them to talk directly to the driver through the Urgent.ly application.
The iOS consumer application is free and can be downloaded directly from the Apple iTunes store or via web app.
With Urgent.ly, a six mile tow costs the consumer a mere $99, and a roadside repair just $75 — far less than the $150 annual fee traditionally paid for an insurance program that may never be used. And the benefits aren't for consumers alone. The towing providers are seeing large benefits, as well. Urgent.ly is paying providers $50 for a road side repair and $75 for a 6 mile tow with $3 per mile over.
If you are tired of the low fees you are paid from traditional roadside companies that often don't cover the cost of doing business, give Urgent.ly a try. Urgent.ly is simplifying the process and making roadside assistance more profitable for service providers. It simply matches the closest provider with a customer in need via their driver application or dispatch portal, and charges the consumer a fair market rate for on-demand service from quality providers. And all of these
technologies are free to the towing or roadside assistance provider.
If you want to get paid more, and get paid faster — often in 24 hours via direct deposit — you can learn more or sign up at http://signup.urgent.ly. You simply provide your business information online; add Urgent.ly as a certificate holder on your insurance; download the driver application to your Android phones and start receiving high margin work immediately. On-demand mobile services are the future — the way consumers are meeting their immediate needs today — and Urgent.ly is the future of roadside assistance.
Testimonials
Urgent.ly Service Provider Testimonials
"It was always a challenge for me to get visibility into my Roadside Assistance fleet's deployment within our region. With my drivers running Urgent.ly's android mobile application, I have full visibility of their realtime locations even when they are not running Urgent.ly jobs, with no expensive GPS equipment or monthly fees – a huge plus!" –Kenneth Holmes, Call Charley
"Being an independent operator, I am always looking for new, innovative and efficient ways to supplement my regular business. Urgent.ly's high paying roadside assistance jobs make sense for us, and its simple mobile platform links me to jobs that are close to my location." –Chris B. – CB Seegars Colesville, MD
"We typically shy away from the traditional roadside assistance business, given the low margins and red tape of dealing with it. The combination of Urgent.ly's nearby jobs, high payout and quick, paperless no-hassle payment system makes it make sense to us
again." –Rick G. Blairs Towing, Sterling, VA.