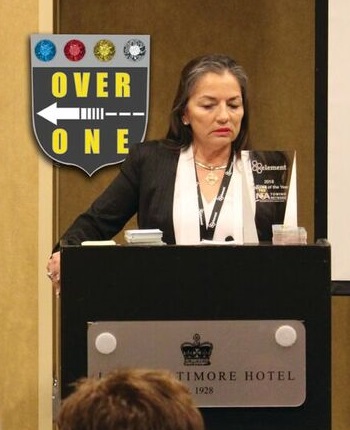 Linda Unruh says "Move Over One" in New Mexico
Last month while in Baltimore, I had the pleasure of meeting Linda Unruh. Linda has been in towing for 30 years, and I learned that it all came about because of a bet: Two friends of Linda's told her that there was no way a woman could ever run a towing business in New Mexico. Linda accepted the challenge and, in a very short time, became the first woman and first Native American in the state's history to own a towing company. Linda then hired the two gentleman that made the bet with her to assist in overseeing day-to-day duties with the company. Pinky's was established and became a thriving business in New Mexico.
Linda's business not only offered towing, but also had a mechanic shop with 6 bays for trucks and heavy equipment and 6 bays for auto repairs. Linda's entire fleet of wreckers were pink, except for one truck that was black. That truck was her son Bobby's truck and was his pride and joy. Linda's son was very proud of the business his mother built and took a lot of pride in the job he did daily helping people that were in need.
Bobby Unruh, 37, of Tucumcari was killed on February 19, at mile marker 317 on I-40 near Montoya, New Mexico while attempting to tow a commercial vehicle. Linda was devastated–she had just talked with Bobby and asked him to be careful minutes before he was struck. Bobby had seen the 18-wheeler that was coming towards him, he made a conscious decision to move out of his safe haven to help a fellow brother pushing him into the toolbox into safety, Bobby was only steps away from being at front of his truck when he was struck. Bobby's last act was to help someone in need before securing his own safety.
Linda Unruh, stated that "New Mexico was the only state left that didn't have a Slow Down Move Over Law." This law had been under discussion and tried to pass for 3 years prior to Bobby's death. Linda took the pain of loss, her passion for the industry, and the need to protect others and used it to fuel her efforts with help from towers across the state to local legislatures.
"Bobby's Law," Senate Bill 76, was passed on April 6th and signed by Gov. Susana Martinez. Senate Bill 76 states that motor vehicles traveling on state or interstate highways are required to move over or slow down for certain vehicles flashing emergency or hazard lights, including recovery or repair vehicles.
Linda Unruh went on to get a three Hundred Thousand dollars awarded for education in schools, bill boards, advertising, etc. This money will be used to educate our future drivers on awareness and on "Bobby's Law," and the value of giving a lane, so our men and women that are first responders can make it home to their families after helping yours in a time of need. We celebrate our women of towing! Thank you, Linda, for being the strong, courageous woman you are; our prayers for continued strength in your fight for towers' protection are with you. God Bless!