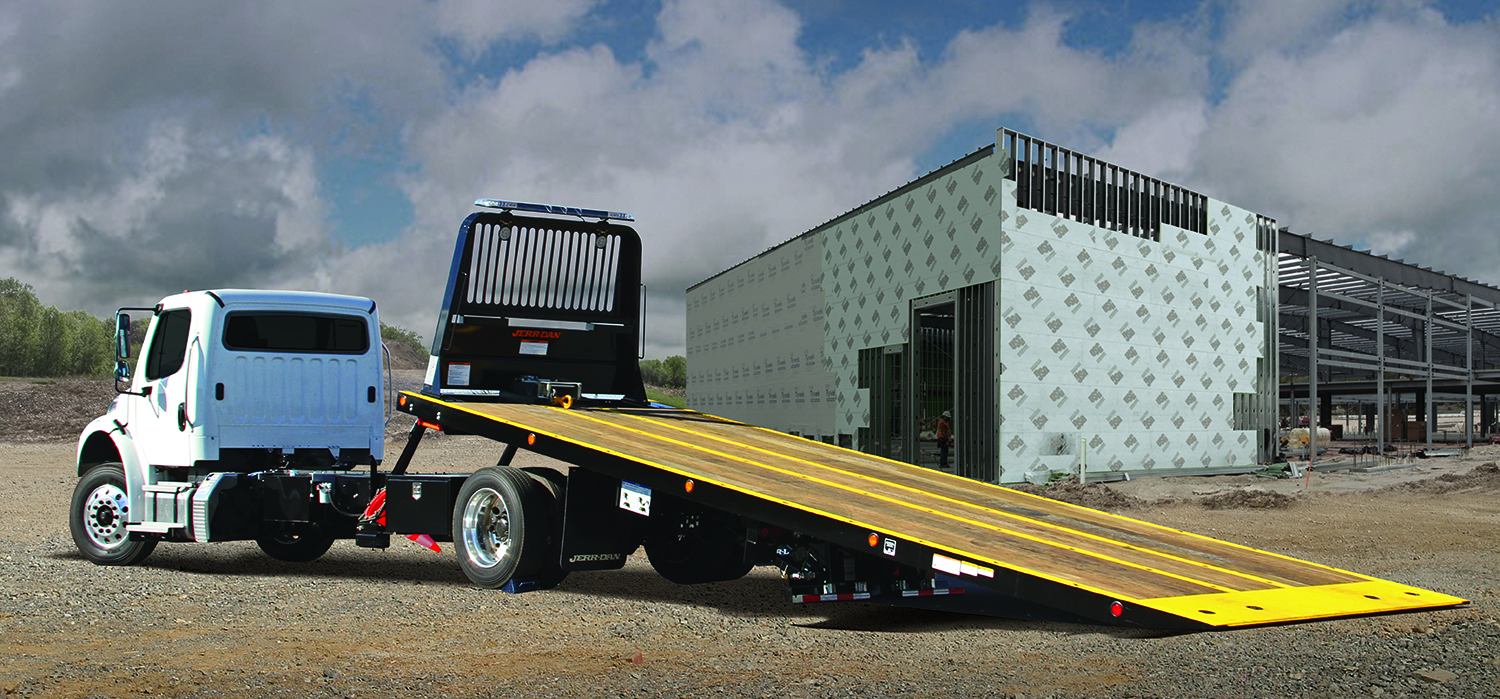 JERR-DAN ADDS TO ITS BEST-IN-CLASS CARRIER LINEUP WITH DEBUT OF HEAVY DUTY JD10XLP CARRIER
Carrier features lighter weight, higher performing industrial bed.
Carrier features lighter weight, higher performing industrial bed
Hagerstown, MD (November 17, 2018) – Jerr-Dan Corporation, an Oshkosh Corporation company (NYSE:OSK) and a single brand leader in the towing and recovery business, has unveiled the all-new JD10XLP Carrier. Steering in a new enthusiastic era for Jerr-Dan, the JD10XLP reflects the company's years of accumulated engineering innovation and industry experience and is available for ordering now.
"We are thrilled to introduce a new carrier for our customers in the towing and recovery industry, showcasing productivity, versatility, and durability," said Mike VanAken, Jerr-Dan director of product management and marketing. "This innovation is only possible because of our leading engineering team's expertise and commitment to bring a ground-breaking product to the towing industry."
Some of the JD10XLP Carrier's standard features include the following: a dual operating box located on each side of the carrier, allowing operators to effectively identify functions and operate the carrier; all steel deluxe headboard with integrated 24" long grab handles and chain racks; hardwood decking made with Brazilian Apitong wood available in 24 ft., 26 ft. and 28 ft. length; anti-skid yellow paint treatment; four function wireless remote control, LED lighting and a deck-mounted 3-step fold-out ladder.
VanAken added, "Unlike the competition, these are standard features instead of options that require add-on pricing. Jerr-Dan has made the decision to include these key features on our carrier equipment fleet to ensure that our customers are getting the full spectrum of our engineering innovations. In turn, end users get a truck that is ready to tackle work on day one."
In addition, the JD10XLP Carrier features a lower deck height to reduce overall height clearance. The carrier also comes standard with Jerr-Dan's exclusive No-LubeTM technology, and the company's new, one-year (full) and five-year (structural) warranty. The JD10XLP Carrier has straightforward service and maintenance requirements, making it an attractive addition to any towing equipment fleet.
For more information on Jerr-Dan products visit the website at www.jerrdan.com.