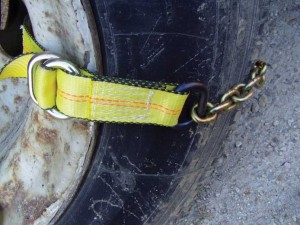 DIG OUT CHAINS
Dig Out Chains are used on trucks when you are stuck in the snow, ice, or mud. You can use them off road, in truck docks, or parking lots to gain traction effectively. Easy to install, easy to take off.
** NOT FOR HIGHWAY USE **
** DO NOT USE HOLE WHERE THE VALVE STEM IS. THIS MAY CAUSE DAMAGE**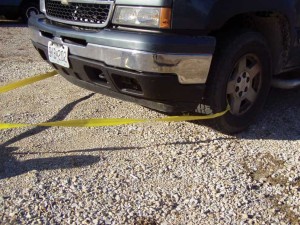 E – Z OUT STRAP E – Z OUT STRAPS are used to get automobiles out of the ditch and clear the highway quickly. It's as easy as 1-2-3.
STEP #1 – RUN THE STRAP THROUGH THE WHEEL.
STEP #2 – WRAP THE LOOP END OF THE STRAP BACK TO THE HOOK.
STEP #3 – HOOK THE WINCH LINK TO THE RING IN THE END OF THE STRAP TO WINCH OUT.
S & J Manufacturing, Inc. 203 Commerce Drive Cuba, MO 65453
Phone: 573-885-4460
Fax: 573-885-3351
www.sjmetalcubamo@yahoo.com