iStart Li-ion Portable Power Pack
Item#QCJP39
The Li-ion Portable Power Pack is a handy unit that charges all kinds of electronic devices. It is also capable of jump-starting multiple cars on one charge. The iStart Li-ion is equipped with two 5V USB ports for cellphones and other devices, a 19V power port for laptops or notebooks and a 12V power outlet for portable DVDs, cameras or gaming devices. Its built-in LED flashlight, strobe light and S.O.S. distress light also increase its functionality.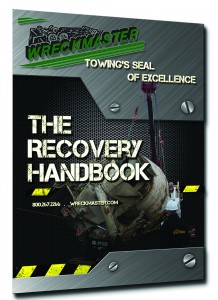 Recovery Handbook
Item#WMB15
Make sure you are up to date with this training tool featuring the latest techniques from Wreckmaster. This comprehensive handbook covers light to heavy-duty towing and recovery procedures. More specific issues covered range from traffic control, winching, rigging, car carrier procedures, methods for recovery and more.