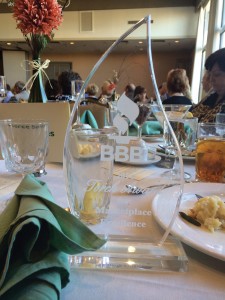 The Better Business Bureau of North Central Texas continued a tradition January 21, 2014, by hosting the 17th Annual BBB Torch Awards for Marketplace Excellence at the Wichita Falls Country Club before a capacity crowd.  Businesses were celebrated and acknowledged for their commitment to ethics, integrity and their support of our local marketplace.
The top awards went to Law Office of Gregory Underwood P.C. for the Small Category, AAA Guardian Foundation Repair for the Medium Category, Pierce Sales for the Large Category, and Rathgeber Hospitality House in the Non-Profit Category in recognition of their commitment to exceptional customer service and ethical business practices. The BBB presented winners with a crystal trophy that they can display and the winners promote their status in advertising, marketing and on their websites.
Businesses are evaluated for their commitment to customer service through exceptional standards for ethical business practices. The independent panel of judges, made up of various community leaders, look at how the company engages its customers, employees and the larger community. They also must meet BBB ethical, advertising and selling standards. Companies and charities may nominate themselves, or they may be nominated by customers or other businesses.
Pierce Sales
Pierce Sales has been in Henrietta, Texas, since 1976.  The company was literally built from scratch. Jeff Pierce stood with his father, George, along different stretches of highway, waving to passing drivers and seeing how many friendly waves they got in return. The friendliest location became Jeff's business location. Pierce Sales began in consignment sales but grew to become a distributor of towing accessories; converter of work truck equipment; and manufacturer of winches, remote controls, farm equipment and dump kits. Within a few years of opening, Pierce Sales became the largest distributor of trailers nationwide.
One of their mottos is "Do It Right the First Time." The Pierce Sales conversion shop has extensive experience, and they do not rush to complete their work. Pierce Sales is committed to serving others during work hours and also in the community. They are personally involved in many non-profit and religious organizations. They have had numerous awards for "Distributor of the Year," as well as numerous letters and certificates of appreciation from the community.