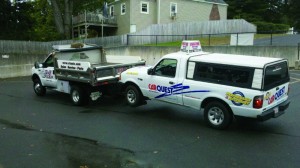 Lift and Tow is a company that has been in the Towing and Recovery market for more than 17 years. Company President & Owner Cal Roth stated that safety is the upmost importance and a lot of thought went into making his line of lifts for his towers.
The Z-series is their top-of-the-line lift. What's so special about the lift and tow system? It is the fastest and most efficient way to get any tow job done. You can literally pick up a car in 36 seconds, and be on your way. Besides its speed and efficiency, the system can be installed on a large variety of vehicles, and is hardly noticeable, so there is no need to purchase a separate tow truck or rollback; just install it right onto your work truck.
The Z-series has upgraded double wall construction. The power boom is equipped with 6 function hydraulics and a wireless remote. It allows you to power up or down while extending or retracting. When retracted, however, the T-bar extends past the bumper 4-10" (depending on your truck model). This unit is fully self -loading and has in-cab controls. Once in place, just lift and go! Unit comes with straps and wireless remote.
Frank Palange of V&F Towing stated, "I did a lot of research when I was in the market because I had a unique install and the only company that took the time to help was Lift and Tow. Cal was great and took the time to help me out. The install was on a 2004 F-350 dump truck (as you can see in the pictures). Without getting into a long testimonial, I can tell you I have used this wheel lift for several things along with its original purpose. I made brackets that hold my leaf loader for fall cleanup. I use it to help lift large logs so I can winch them up into my truck for sawmilling and made a reinforced ball mount to haul my Back Hoe. I loved the lift and the company has been great. I am completely satisfied with my new Z series lift from Lift and Tow."
For more information on the 3, 5, and Z-Series lifts, give the team a call at Lift and Tow!!
Lift and Tow
www.liftandtow.com
1-866-494-6500
717-532-5558