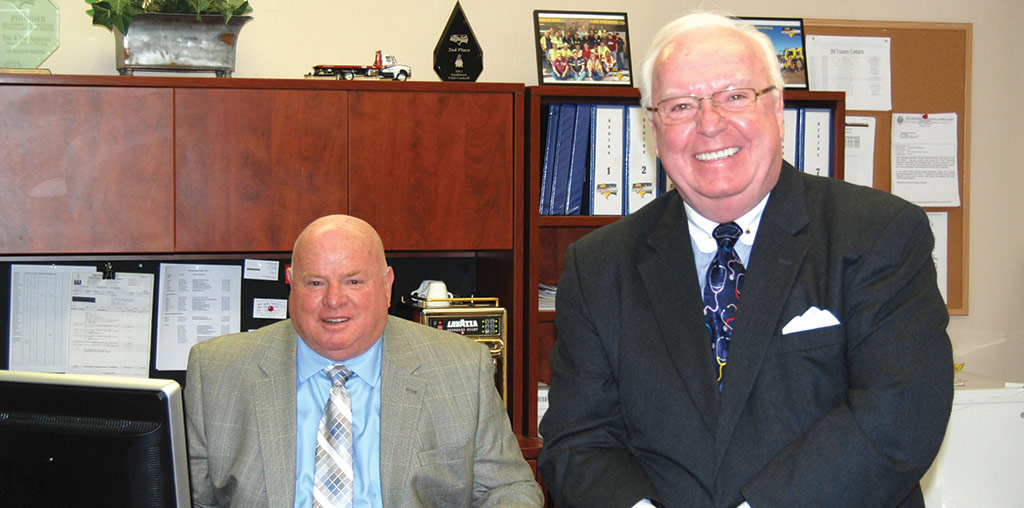 By Dan Messina
The sales position at your company is the most important position in the company. Selling your services brings you the revenue to run your business. The sales position is also the hardest position to fill. It's a certain kind of skill that not everyone has. In the towing industry, the owner will do most of the selling. A good dispatcher may get involved because they talk to customers all the time. In this article, I will show you some tips for selling your services.
I had a member call me recently, and he asked me if I could help him with his sales staff. The first thing I needed to know was what he wanted to accomplish with his sales staff. I asked him to write down some objectives he wanted to accomplish with his staff. In your business, you have to do the same thing. Once you have established some objectives, you now have something to measure.
I looked at his staff. He had 10 or so sales people, and most of them had good sales experience. They worked with the company for awhile, and they all had major responsibilities, such as families, home to pay for or car payments. I like to hire people who need to come to work. After reviewing the data I received, I determined his staff had become stale. Doing the same thing over and over for a long period of time can put you in a rut. We decided to work on increasing sales and improving customer service. Here are some tips to follow as you work to increase your sales.
There are three areas we will look at:
The staff – These are the people who will be involved the sale.
The service – This is the product or service you are selling.
The customer – This is the person who will buy the product or service.
Since your business may be too small to have a sales staff, let's make every employee a salesperson. The first thing we want to do is make sure all employees know what we are selling. We have the owner, dispatchers, and drivers. Bring them all together and let them know that we are going to increase our business and that they will be a big part of making that happen. Also let them know that that there will be rewards as we increase our business. We want to improve their appearance as they will be talking to customers. We want to educate them on what we are selling. Our goal is to make all employees feel like they are a part of what we are trying to accomplish.
Now let's list our products and services:
(These are things my company provided)
1. We provide towing.
2. We have a bi-lingual staff.
3. We have a 24 hour secured lot for storage.
4. We have security.
5. We film all tows.
6. Our staff is professional.
7. Our staff is drug tested.
8. Drivers go through training programs.
9. We do lockouts and jump starts.
10. We can sell you a vehicle or a part from our storage lot.
11. We can move things for people.
12. In some cases, we are connected to MVD and can provide vehicle information.
I sat with my staff and tried to determine if we could offer any of these items as additional services. Once you start looking at what you are doing, you will find things of value you can offer to your customers. Here are 15 good tips to get you started:
1 Upsell – If you look at my list of things I had at my company, I then started to offer storage for my customers, or I provided access to some great cars for my customers and their employees through my auctions. If you look close, you will find things your customers may need that you can sell to them.
2. Cross sell – Take the service you already provide and make it better, or add to it, and then sell it as an upgrade.
3. Attach discounts – Go to an apartment complex and offer towing, jumpstarts, and lockouts and then offer their employees the same service at a big discount.
4. Offer samples – If you go to www.danmessina.com you will find several videos that are free to view. This gives you a sample of what to expect from my company.
5. Offer payment plans – If your customer wants your service but can't afford it, you, as the owner, must figure out how to make it happen. I have several members that signed up and I put them on a payment plan so they can benefit from my services.
6. Train your sales reps – Training, education, training, education…I can't say this enough. Make sure all your employees know what your objectives are and what you are offering. My website is a good training tool for all your employees. 7. Explain why the item is important – As you try and sell the customer an additional service, explain why they need this service. Give them some examples of how you are saving them money or time. The customer will buy anything if they think it fixes their problem.
8. Offer the extra item – Offer your existing customer a discount on additional services, such as lockouts, tows for family members, towing cars to and from auctions. Get creative, but don't give the service away; just let them know you are discounting the service. Create your own coupon, such as 25% off all first time tows, and distribute them to new and existing customers.
9. Finalize one sale before you offer another – If you are providing a poor service, it's not time to offer your customer something new. You have to make sure the customer knows you are looking out for them and not just trying to make as much money as possible by selling services.
10. Explain free item value – You can sell anything if you convince the customer you are fixing their problem. Show value in what you are offering. If you are a member of www.danmessina.com, you get all the seminars and education at one low price. I then offer to help you create a business plan at no additional charge. I did this for a member in Pennsylvania, and he saved $10,000 a month. He needed a business plan, and we gave it to him. It had an impact on his company immediately. I showed him value in a good business plan.
11. Offer new discounts to old customers – The last thing you want is for your existing customer to find out you are offering the same services to someone else at a cheaper price. Make sure you give your existing customers the same discounts or new services that you are offering to new customers. What we want to avoid is losing existing customers.
12. Offer free services – When your service is private property towing, you better be prepared to offer free services. Things like striping properties or free tows for managers were the big items in Texas. It was illegal to offer these free services, so you had to figure out a way to do it and be legal.
13. Create a Facebook account – I watch Shark Tank, a TV show about small businesses. When the sharks ask how they were so successful so quickly, the answer is always social media, Facebook and websites. I am using this method to promote www.danmessina.com so I can reach more people faster at a lower cost for marketing.
14. Link your website – You need a website to present your company. Once you develop a good website, and it doesn't have to be fancy, but make sure it explains what you do, then start telling people about it. 15. Check price comparison – In our business, we check the price of the competitor and offer the same service at a lower price. This is what is wrong with our industry. We are in a service business, so just offer the best service. I was not the cheapest service in my market, but I offer the best service and my customers wanted good service no matter what the price.
Growing your company can be easy if you do it right. I hope these 15 tips help get you started with growing your business. If you find these tips helpful, there are 50 more tips just like them on the website. Let's grow your business together.